David Atkinson
David Atkinson is Chairman and CEO of Konishi Decorative Arts and Crafts, a 300-year-old Tokyo-based restoration company which restores shrines and temples across Japan.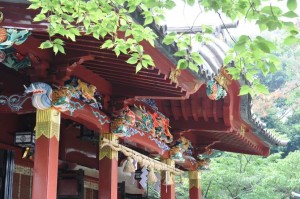 I started my relationship with Japan when I went up to read Japanese at Oxford in 1983, visiting Japan for the first time in 1985. I admit that at the time it was the prospect of being able to find employment that led me to Japan, since the economy in Britain was a mess, Japan was booming, and the number of people studying the language was so small. As a budding economist, it seemed like the logical choice.

After graduation, I spent three years in consulting, all for Japanese clients, before moving to Japan, and into investment banking in 1990. I was a bank analyst during the bad debt crisis, bank collapse era, before retiring in 2007. Almost four years ago I was asked to take over the management of Konishi Decorative Arts, which has been restoring the lacquer and painted decoration of the Nikko Toshogu for over three hundred years. Now covering the whole country, the company is the largest in the heritage lacquer restoration industry in Japan, focused mostly on Shinto shrines.

My relationship with Japan has always been challenging. There is so much more that can be done in Japan with a little application, but it can be deeply frustrating dealing with entrenched interests, and intransigence. As an analyst, it can be crushing to be involved in a debate at the highest levels in government based on no analysis, where as a result the outcome is unlikely to hit the mark. At the same time, however, when things can be changed, as I have found in my current role, then great things can be achieved. Learning to deal with- and effectively use to advantage – the fact that one is always an outsider, is the greatest challenge anyone faces in Japan.

However, I have always been impressed by how open Japan can be, as may be seen in the very generous support given to me in my current role, which takes me to the heart of traditional Japan, and where much greater conservatism might well be expected.

Perhaps it remains these contradictions that keep me and so many others involved with Japan. Next year marks 25 years for me living in Japan, and this year is the 30th anniversary of my relationship with Japan. Despite all the hype about how Japan is not protecting its heritage and skills are being lost, I know from personal experience that things are not nearly as bad as people claim (it must be said that I was also in the camp that argued that Japan was not as great as people said during the bubble period), and that these precious skills are being – and can be – maintained. I firmly believe that this current phase of no growth is just a period of digesting the growth of the bubble period. I have every confidence that just as the UK dragged itself out of the doldrums when I was a student, so Japan will re-emerge before too long, Abenomics or not, as perhaps my continued presence in Japan, and my work with Japanese culture, suggests.
David's company is Konishi Decorative Arts & Crafts Co., Ltd.