BY REBECCA MILNER, Japan Times 14 November 2013
A peculiar culinary milestone took place last month: the 400th anniversary of the first English roast beef dinner served in Japan…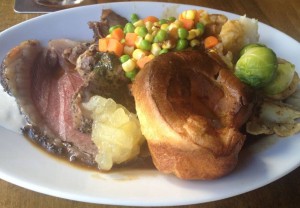 You're forgiven for missing the fanfare; there wasn't any, save for a commemorative meal at the Foreign Correspondents' Club of Japan in Tokyo.
This inaugural roast was prepared by the crew of the Clove, the first East India Company ship to arrive in Japan, for the 26th daimyo of Hirado, in present-day Nagasaki Prefecture. Apparently he was so pleased with it that he requested it again a month later. (You can learn more about this and Britain's first trade mission to Japan at www.japan400.com.)
While foreigners in Japan are often caught moaning about the lack of quality whatever it is they miss from home, this is a fine opportunity to reflect on just how far things have come. According to professor Timon Screech of the School of Oriental and African Studies, University of London, who lectured at the FCCJ dinner, the beef spent several long months at sea and would have been heavily salted to compensate for the lack of refrigeration. As recorded in the log of ship commander John Saris, it was served with turnips and onions. Potatoes didn't exist in Japan; they may not have even caught on yet in Britain.
Though it got a big head start over more recent and now-ubiquitous imports such as hamburgers and pizza, roast beef still has the air of an exotic luxury in Japan. It isn't part of the pantheon of yōshoku (Japanese-style western food) that became staples of Japanese home cooking. Instead, you're more likely to find it at a lunch buffet at a high-end hotel, sliced ever so thin.
When it comes to roast dinners like you might find at home, the only places that get it right are the pubs. The Meguro Tavern (Sunwood Meguro Bldg. 2F, 1-3-28 Shimo-Meguro, Meguro-ku, Tokyo; 03-3779-0280;www.themegurotavern.com) has an excellent Sunday carvery for ¥1,950 with roast beef, lamb and pork (and their attendant sauces: horseradish, mint and apple). There are Yorkshire puddings, roast potatoes crusted in rosemary, mashed potatoes, Brussels sprouts and gravy for the side, too. According to a British friend: "It just needs some pork crackling, then it'd be perfect."
It's a pretty good deal, too: all-you-can-eat, so long as you buy a drink from the bar.
I've also heard good things about the Sunday roast at The Tipplers Arms (1-8-12 Azabu-Juban, Minato-ku, Tokyo; 03-3505-8278; www.the-tipplers-arms.com). Here, it's just beef (plus lamb on the last Sunday of the month), but all the trimmings are present, at ¥1,200.
In Yokohama, Full Monty (Kitahara Bldg., 41 Nishi-dori, Fukutomi-cho, Naka-ku, Yokohama; 045-334-8787; www.fullmontyyokohama.com) does a promising-looking roast on the last Sunday of the month, with beef and lamb, Yorkshire pudding and potatoes. I also hear that they have a particularly impressive selection of ciders.
If you think you can do better in your own kitchen, The Meat Guy(www.themeatguy.jp) has a long list of meats for roasting, including rib roast, lamb leg and pork shoulder, that can be delivered anywhere in Japan.
Supermarket National Azabu (4-5-2 Minami Azabu, Minato-ku, Tokyo; 03-3442-3181; www.national-azabu.com) also has some choice cuts, though naturally they're expensive.
Rebecca Milner is a freelance writer in Tokyo and coauthor of Lonely Planet's travel guides to Tokyo and Japan.